God may have been expelled from the Democratic Party's 2012 platform, but according to a new video shown at the Democrat National Convention, Sen. Ted Kennedy lives on — and has passed the torch to President Barack Obama.
Despite God being kicked out of the democratic platform, religious fervor is no less prominent.
The arena's massive video screen provided a vision of the late Sen. Kennedy from high above an enthralled throng of 20,000 Democratic faithful.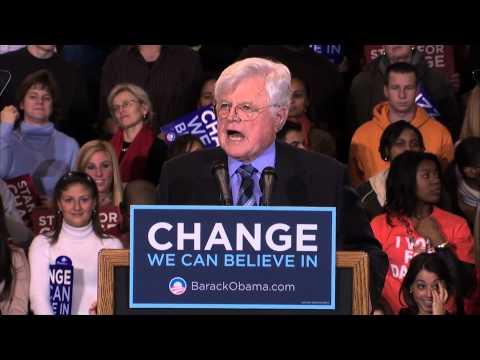 The video begins with a brief clip of Kennedy's speech at the Democratic convention in 1980.

Kennedy undermined President Jimmy Carter's re-election chances with a damaging insurgent campaign, and then gave a stirring concession speech that concluded, "For all those whose cares have been our concern, the work goes on, the cause endures, the hope still lives, and the dream shall never die."

The video reprises major hits from his career: "Expanded Civil Rights, Sponsor of Voting Rights, Author of Immigration Reform … Fought to End the Vietnam War."

The video also shows some segments of the 1994 Senate-race debate between Kennedy and Romney — where Romney embraced liberal positions but was trounced by Kennedy — before offering video of Kennedy endorsing Obama in 2008 and video of Obama's effort to bring control of the nation's health sector under Washington.
Read more:
http://dailycaller.com/2012/09/04/the-late-ted-kennedy-descends-on-obama-convention-video/#ixzz25cElTNu7